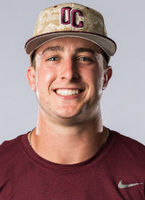 Hunter Markwardt

#0
Position:
OF
Height:
6' 1"
Weight:
180 lbs
College Experience:
Oklahoma Christian University
Bats:
R
Throws:
R
Class:
Jr
Division:
NCAA D2
Biography:
High school: Enjoyed an amazing, multi-sport career at Argyle HS. … As a senior he led his team to a 30-7 record and the Class 4A state championship, one season after helping his team to a 31-9 record and a runner-up finish at the Class 3A state tournament. … As a senior he broke the school record for stolen bases and hit .361 with 34 runs scored. … As a sophomore he was the district's Newcomer of the Year. … During his career, he was also selected as the area Offensive Player of the Year, first team all-district and second team all-state. … He also set the school recor din the 200 meters, and he ran to the silver medal in the 200 meters at the state track and field meet. … As a senior, he played for the Class 3A state football championship team.

Personal: Full name is Hunter Lee Markwardt. … Son of Kevin Markwardt, Susie Juergens and Jim Juergens. … Born 22 August 1997. … 2015 graduate of Argyle High School.