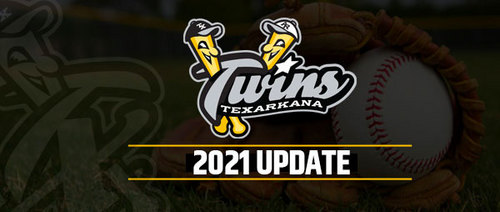 Texarkana, USA - April 4, 2021 - Clutch Sports Group announce the Texarkana Twins will be skipping the 2021 season in order to plan for the future. "We're very proud of the Twins and what they have accomplished in the 4 years of baseball & entertainment they have provided the Twin Cities" said Uri Geva, President of Clutch Sports Group. "We are eager to start planning their future and unfortunately with the challenges of Covid-19, we made the tough decision to sit-out the TCL's 2021 season".
"Ultimately, it is clear that in order to stay true to our core values and to act in the best interest of everyone involved with the club, including players, staff, host families, supporters and sponsors alike, we must withdraw from the 2021 season" said Uri Geva.
"We absolutely support the Twins decision not to participate in the 2021 Texas Collegiate League season, this decision is about much more than baseball and we look forward welcoming them back in 2022, said TCL League Official.